James Plumbing & Heating Oil Company, Inc.
Family owned for over 50 years, James Plumbing & Heating Oil Co, Inc. offers 24 hour emergency full service and competitive pricing whether your need is for heating fuel, cooling product or for plumbing services. Our technicians are highly trained and certified, they can assist you with any questions and concerns.
Our company has earned respect locally and in the surrounding areas and has become an expert for plumbing and heating services. We provide free plumbing and heating estimates as a courtesy for our customers, and potential clients.
We offer a variety of helpful tips and suggestions about your heating and cooling units, care, safety and economic ways of using any equipment. Please click here for useful tips safety for your boiler, furnace or a propane tank.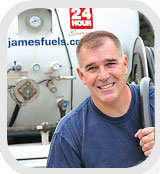 Plumbing/Heating Sales & Service
Oil & Propane Solutions
Annual Maintenance
24-hour Emergency Service
Delivery Options to Suit Your Needs
Budget Stabilization Available
VT / NH Fuel Assistance Accepted
Vermont Fuel Dealers Association
Todays "Cash" Heating Oil Price: $4.299
plus tax when applicable